Your titanium sheets and titanium foils economically & precisely laser cut

Laser cutting of titanium for prototypes and series production
Spezialist für das Laserschneiden von Titan & Titanfolien von 0,05 mm - 5,0 mm
HAILTEC bietet präzisionsgefertigte Bauteile aus Titanbleche und Titanfolien an und ist DIN EN ISO 13485 zertifiziert. Unsere modernen und hochgenauen Laser-Feinschneidanlagen, jahrzehntelange Erfahrung sowie beherrschbare Prozesse ermöglichen es, Ihren Anforderungen vollständig gerecht zu werden.
Als langjähriger A-Zulieferer unterschiedlicher OEMs aus der Automobilindustrie, Medizintechnik, dem Maschinenbau und anderen Branchen gewährleisten wir durch hochmoderne ERP- und DMS-Systeme eine fehlerfreie Chargenrückverfolgbarkeit jedes einzelnen Fertigungsschritts.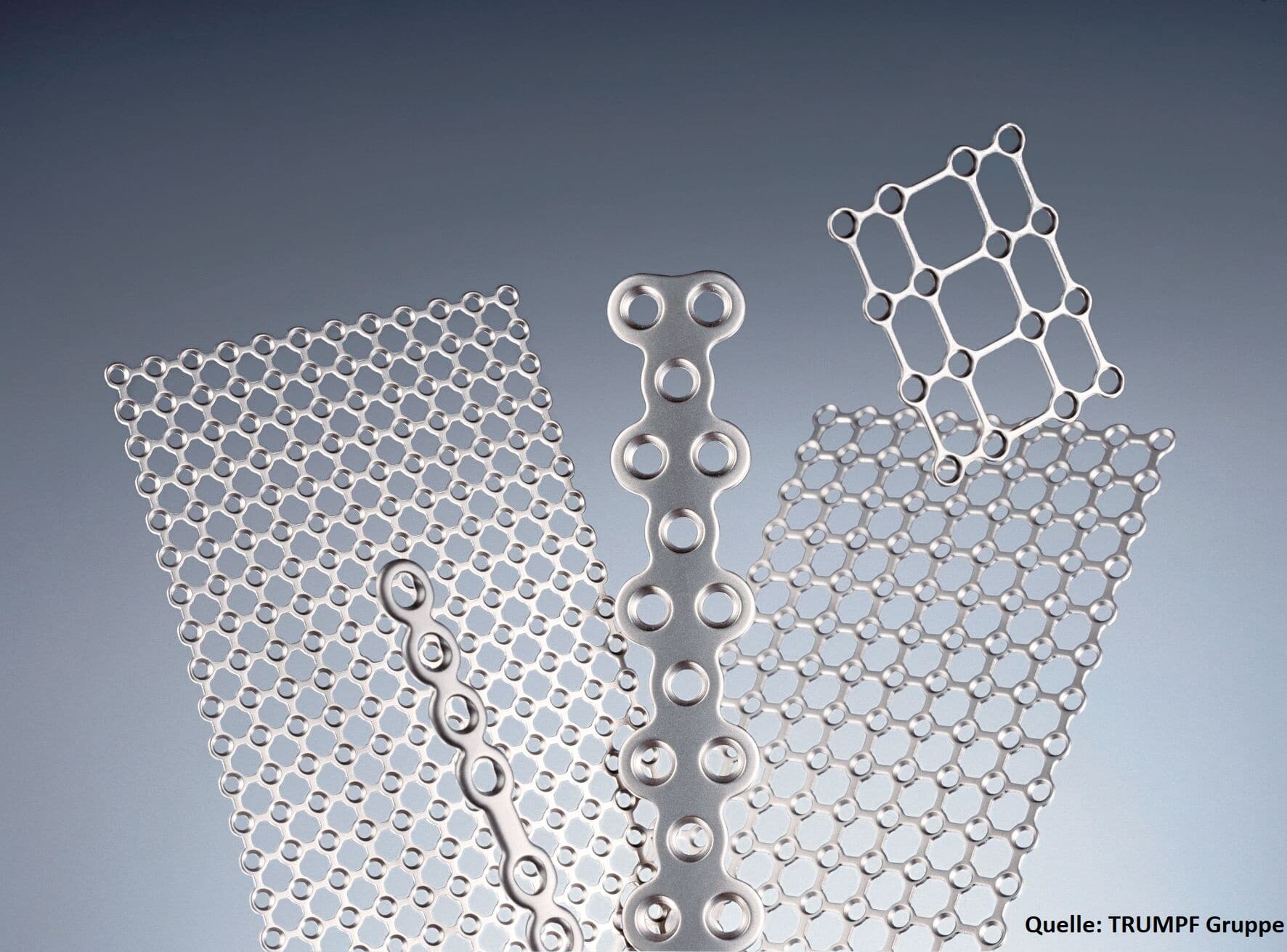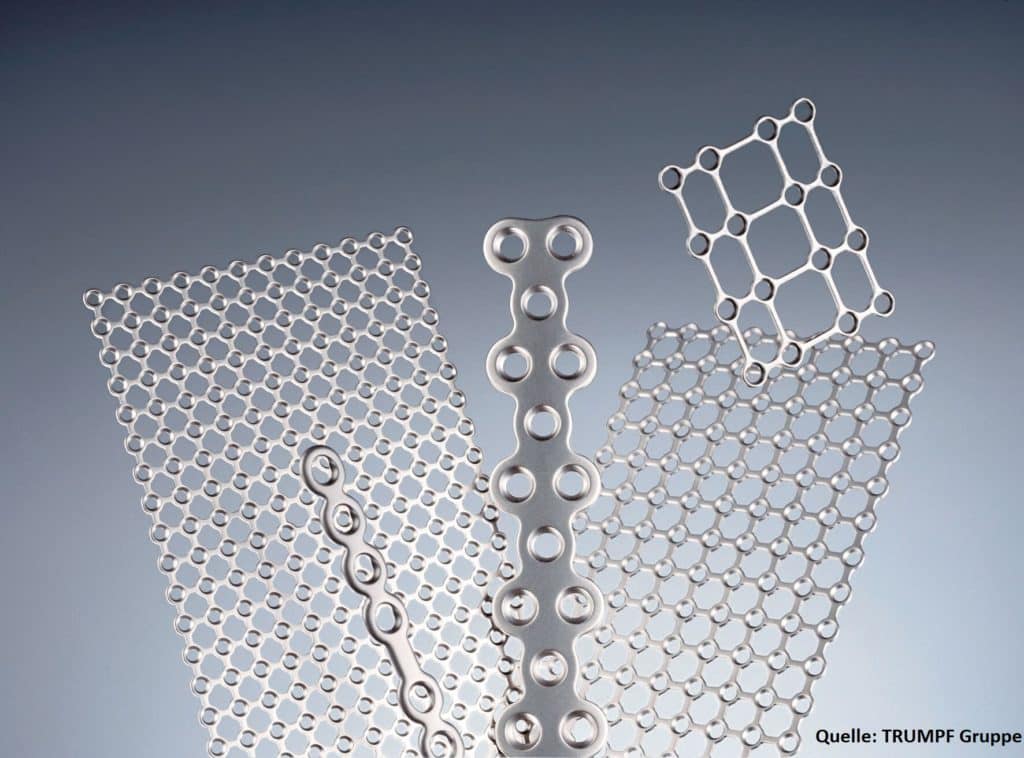 Benefit from the precise and economical cutting technology in titanium laser cutting
Many well-known customers from industry
already rely on our expertise
Precise titanium blanks, fast & economical
Titan Laserschneiden mit Konturgenauigkeit +/-0,01 mm
Precision is measurable:

Laser cutting

+/- 0.01 mm Contour accuracy*

0.05 mm - 5.00 mm cuttable material thicknesses in titanium

from 0.025 mm web widths*

from 0.03 mm laser kerf*

max. 800 x 500 mm Dimensions component

*the mentioned values depend on material, thickness and geometry
4 Schnitt-Technologien inhouse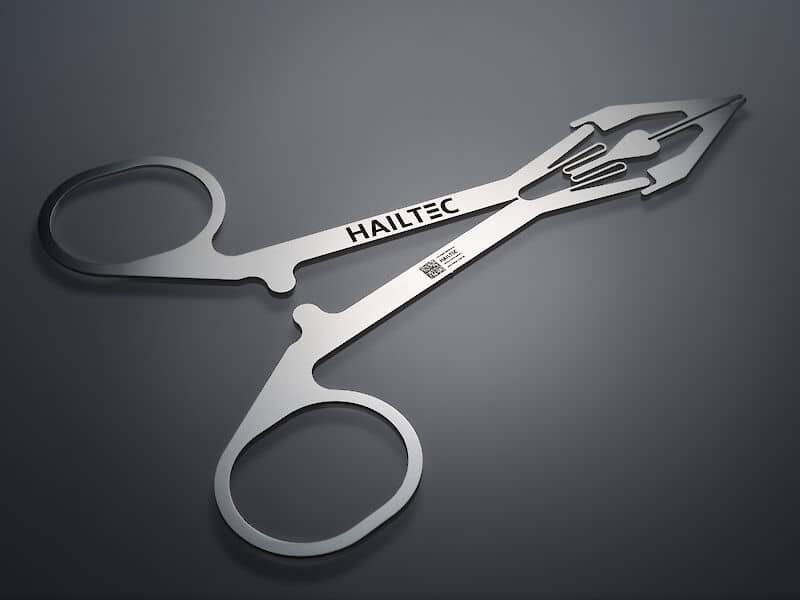 We need your ideas regarding the material, the sheet thickness and the requirements in order to subsequently deliver the most economical solution - high-precision and high-quality. For this purpose, we at HAILTEC combine four cutting technologies at once: laser fine cutting, ultra-short pulse laser micro cutting, micro water jet cutting as well as the punching technology. No matter which parameters you have: We are your supplier and contact on machines from Trumpf and DMG MORI for the topic of titanium laser cutting. There are several factors to consider when choosing the right laser. These include: What are your quality and material requirements? What is your workload? And what do you need to carry out production economically?
Your demand is skyrocketing? Use our automated laser systems for quantities up to 500,000 pieces
What distinguishes laser cutting of titanium at HAILTEC?
Quality of titanium foil and titanium sheet blanks
The production of precise laser cuts from titanium is our specialty. For this purpose, we use QCW pulsed fiber lasers and Nd:YAG laser systems on precision equipment from DMG MORI and Trumpf. These laser sources introduce hardly any energy into the material or component. Little heat means little distortion and enables the finest cuts. With ultra-fine laser cutting systems and state-of-the-art beam sources, we produce the finest cuts with a gap width of 0.03 mm or less. Tolerances depend on the sheet thickness as well as the cutting contour and are in the range of +/- 0.01 mm.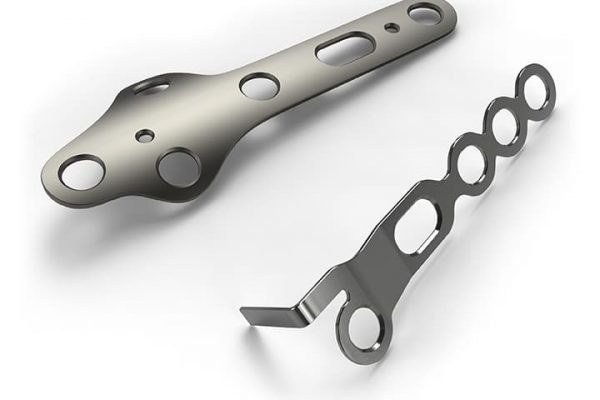 Which titanium alloys are suitable for precision laser cutting?
There are different types of titanium sheet, which are made of different alloys and have different strengths and resistances. In this overview you will find the most commonly processed titanium alloys that HAILTEC uses for titanium laser cutting. We always have many of them in stock, of course with material test certificate. We can also procure special alloys on request or you simply provide us with the material.
Pure titanium of grades 1 - grade 5. These alloys are extremely corrosion-resistant and have very good cold-forming properties. In addition, the low thermal expansion leads to lower heat-related stresses compared with other metallic materials. Due to its excellent biocompatibility, this material is also widely used in the medical field. Typical applications are in the chemical and machinery industries, as well as for aircraft parts due to the material's strong formability.
Titanium Grade 1 3.7025 UNS R50250
Titanium Grade 2 3.7035 UNS R50400
Titanium Grade 3 3.7055 UNS R50550
Titanium Grade 4 3.7065 UNS R50700
Titanium Grade 5 3.7164 UNS R56400
Take advantage of our post-processing // Surface finish for titanium laser cutting
Which geometry of titanium can we precisely laser cut for you?
Precise titanium laser cut parts are ideal for products such as:
Laser cut titanium implant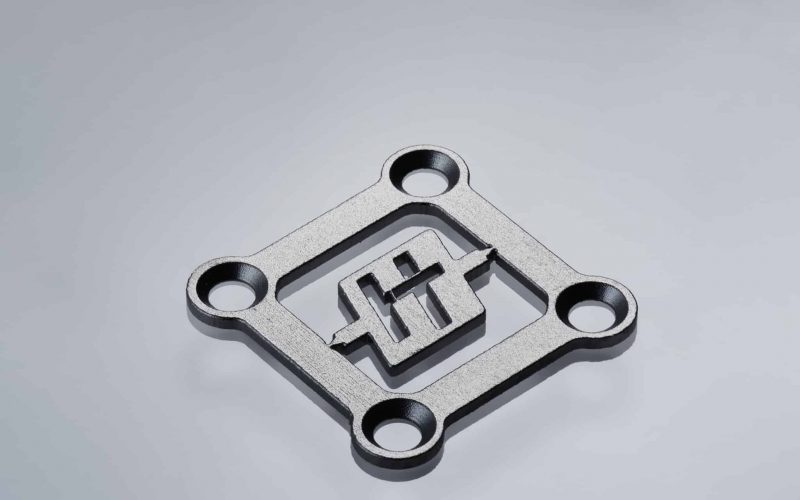 Precise precision mechanical components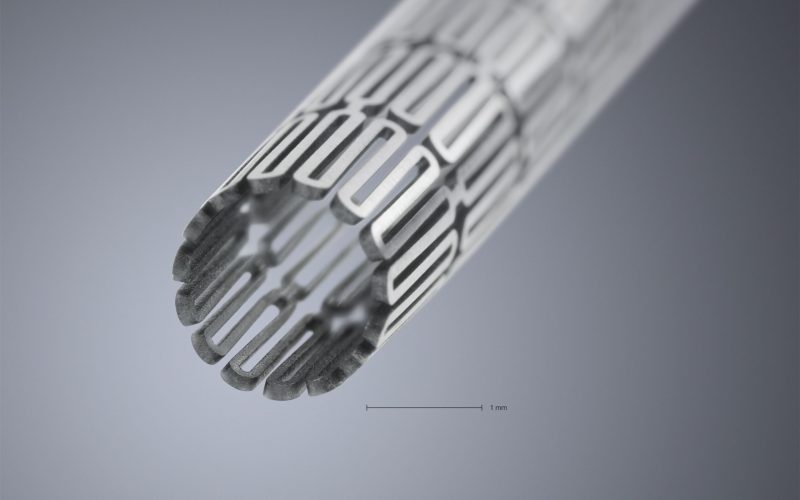 Weitere Dienstleistungen, die Sie auch interessieren könnten

Why HAILTEC is the right partner for your industry
Titanium laser cutting wanted? Are you looking for a company that specializes in laser cutting of titanium, copper, aluminum, brass and stainless steel? Then HAILTEC GmbH is the right company for you! For many years we have been producing high-precision and filigree laser parts for a wide variety of sectors, such as the automotive industry or medical technology. To ensure consistent quality of our products as well as comprehensive traceability of every single manufacturing step, we perform our work according to strict processes and standards.
With our outstanding beam quality and extremely small spot diameters, we provide you with exactly the precision you need for laser cutting of titanium. Among others, for applications in the following industries:
Benefit from the latest laser technology without having to invest yourself.
General information about titanium
Titanium is a chemical element with the symbol Ti and atomic number 22. It is a transition metal and forms refractory alloys with other metal elements. The properties of titanium are similar to those of iron and vanadium, but it is not as reactive as these. Titanium is a common element and is the second most abundant metal nucleus constituent in the earth. Most titanium ores also contain trace amounts of iron, magnesium, and calcium. Titanium is an important element for industry, especially in aerospace engineering, the chemical industry, and medical technology.
William Gregor discovered titanium in England in 1791. Heinrich Klaproth, the German chemist, also discovered it in rutile ore in 1795. Klaproth named the element after the Greek deity of the Titans.
Titanium is extracted from ilmenite or rutile with the aid of a complex manufacturing process. In 2008, titanium cost about 12,000 euros per ton.

Titanium alloys are metal compounds consisting mainly of titanium and a number of other additives. These alloys are often categorized from Grade 1 to 35 according to the American ASTM standard, with the grade classification based on the different composition of the alloy. For example, grades 1 to 4 refer to a pure titanium alloy, while higher grades contain a range of titanium dioxide and other elements.
Can titanium be laser cut?
 Titanium is not only particularly biocompatible and corrosion-resistant, but also has a very good strength-to-density ratio. Titanium can be processed very precisely and extremely finely with pulsed fiber lasers with a wavelength of 1030nm. The cutting gas used is usually the reaction-inhibiting gas argon, in order to achieve a perfect cut with low heat input. HAILTEC can laser cut titanium from 0.05mm - 5mm with different laser sources.

Laser cutting of titanium is considered one of the most complex and technically demanding techniques in materials processing. Due to its chemical and physical properties, titanium is often used for filigree components in heavy-duty, high-stress applications. Because laser beam is highly concentrated and targeted, it can produce very fine shapes and structures that traditional cutting cannot. It is possible to create the finest details or complex structures at high speeds that ensure precise processing. In addition, unwanted sparks and deformations can be avoided by eliminating mechanical processes. This process allows for an extremely precise and smooth surface, which in turn enables accurate assembly and use in heavy-duty applications. Laser cutting of titanium is one of the most versatile techniques in the field of materials processing, which makes it possible to achieve very precise shaping while maintaining the mechanical properties of the material.
In which industries is titanium used?

Titanium is a material that is widely used in the aerospace, automotive and chemical industries due to its high strength, light weight and safety resistance. Thanks to the characteristic properties of titanium such as high strength and corrosion resistance, it is a very useful material for various applications. Also, its ability to withstand external temperatures and resist strong mechanical impacts make it a very valuable material. Titanium machining is performed using the most advanced CNC technology. This technology makes it possible to machine components with high precision and, using standardized machining parameters, to produce customized solutions to meet specific customer requirements.
Is laser cutting of titanium suitable for medical technology?
Titanium is a very valuable material used in medical technology for various applications. It is a lightweight, biocompatible and strong material that has a high resistance to biological aggressiveness due to its immunity to corrosive environments and good physiological properties. In addition, it is hypoallergenic and therefore widely used and appreciated in medical technology. Thanks to its low density and thermal conductivity, titanium can be used for many different medical instruments and appliances, as well as implants. It also features high dimensional stability, corrosion resistance and resistance to chemical substances. Thus, titanium can help provide greater safety to surgical procedures while increasing the durability of medical devices. It is therefore not surprising that many applications in medical technology involve the use of titanium.
Which is better: titanium laser cutting or waterjet cutting?
Whether a material is processed by laser cutting or waterjet cutting depends entirely on its material properties and the requirements. Whenever weak points become apparent with laser cutting technology, micro waterjet cutting is usually the better alternative.
Member of networks and associations
HAILTEC - Your certified partner