Your expert for ultrashort pulse laser application in contracting
Cutting-edge technology as a
contract service
With peak pulse powers of more than 300 MW, the ultrashort pulse laser processes even highly reflective surfaces. It works without heat-affected zones and without acting process force. For your components, this means no scratches, splashes, contamination or burrs. Reworking or cleaning of the surface is largely eliminated.
Our partner in ultra-short pulse laser processing
UKP laser: Processing methods at a glance
Technology that gets you ahead
Good reasons for UKP laser technology
HAILTEC measurement and plant technology...
...from which you profit:
You need express services instead of downtime? Use our job shop.
You too can benefit from high-tech "on demand
As an extended workbench of renowned industrial companies, we have been investing in the expansion of our comprehensive technology pool since 2004. We have been driving ultra-short pulse laser processing forward since 2018, together with laser source manufacturer TRUMPF and equipment manufacturer DMG MORI.
You too can benefit from high technology "on demand", i.e. without having to invest yourself. Ultra-short pulse laser processing with the cold pulses of the femtosecond laser opens up enormous design and material freedom for innovative developments to your design teams and R&D departments.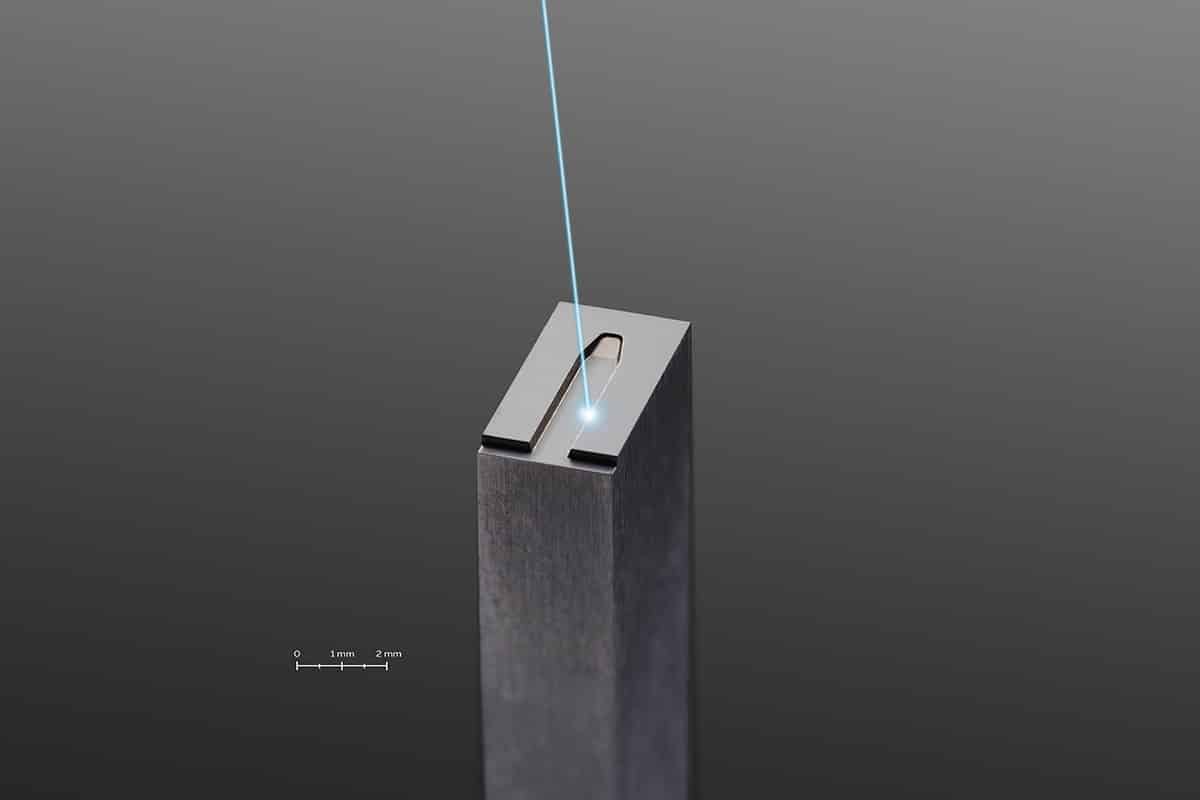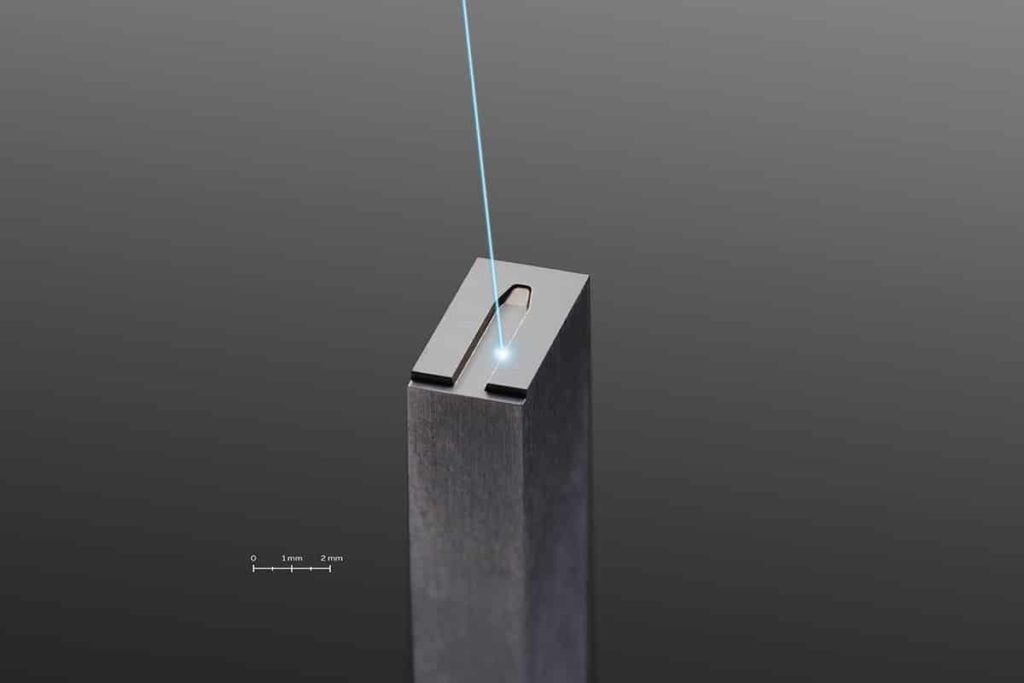 Express service instead of machine downtime: you can rely on HAILTEC.
Sublimating instead of melting
Advantages of the ultrashort pulse laser
HOW DOES ULTRASHORT PULSE LASER PROCESSING WORK?
In ultrashort pulse laser ablation, laser pulses strike a workpiece whose electrons absorb the immense energy. The electrons transfer the energy to the atomic trunks, which results in the heat being localised with high precision. Thus, the material sublimates (vaporises) in a minimally small zone even before the surrounding material can heat up.
Your high-tech partner for high-precision components
These added values await you at HAILTEC
Good reasons for ultrashort pulse laser components
Laser ablation, texturing or micro-laser cutting: The femtosecond laser does not heat the workpiece. This results in reproducible accuracies in the μm range and surface qualities down to Ra 0.1 μm. For industrial applications, this means fast and economical 3D molding in top quality.
With extremely short and powerful pulses, this laser gently processes virtually any material, including:
Carbide
PCD, diamond
Various steels
Ceramics
Sapphire, glass
Semiconductor
Plastics
Composites
Ultra-short laser pulses open up new possibilities for designers. For example, if wear, corrosion, heat resistance or insulation speak in favour of ceramics, the UKP laser can process them just as well as other sensitive materials.
Ultra-short pulse lasers: Industries
Together with laser manufacturer TRUMPF and equipment manufacturer DMG MORI, we are advancing ultra-short pulse laser technology. Take advantage of this technological lead as a service.
Whether standard materials or advanced materials: the femtosecond laser is flexible, fast, precise and repeatable.
Filigree 3D shape, UDI marking, engraving or microstructure: With the unique tool ultra-short pulse laser, we fulfil your desire for maximum precision and reproducibility. Among others, for applications in industries such as:
Frequently asked questions about ultrashort pulse laser application
How does ultra-short pulse machining work?
During laser ablation or cutting with the ultrashort pulse laser, laser pulses hit a component whose electrons absorb the immense energy. The electrons transfer the energy to the hulls of the atoms. This localises the heat with high precision. The material sublimates (vaporises) in this very small area even before the surrounding material can heat up. This is why we also speak of "cold" laser processing.
How long does a femtosecond pulse last?
The blink of the human eye lasts between 300 and 400 milliseconds - a trillion times longer than a pulse length of the femto laser source used at HAILTEC.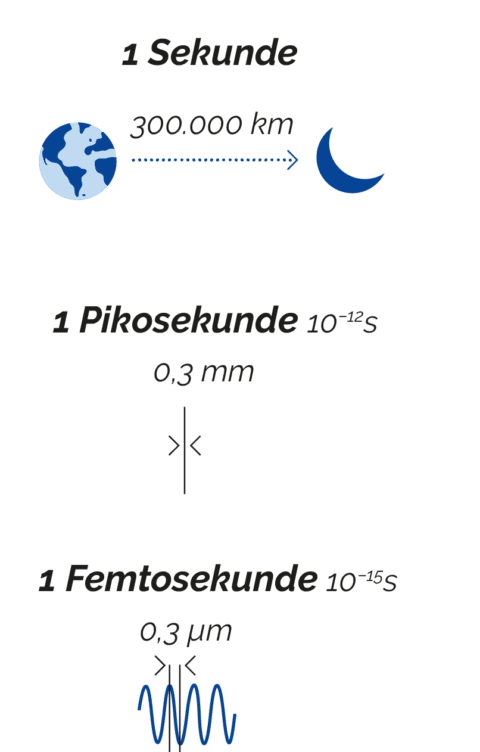 What are the advantages of UKP lasers?
The main advantages of UKP laser processing include material diversity, micromachining and design freedom.
The ultrashort pulse laser offers a number of advantages over conventional lasers. For one thing, it is able to deliver very high energies in very short pulses. This enables it to work very precisely and create very complex structures. Secondly, the ultrashort pulse laser is much more robust and durable than conventional laser systems.
Carbide is a composite material, it consists of a hard material and a very tough binder metal. The material is particularly hard, wear-resistant and has a high hot hardness. It is used wherever tools or components are exposed to high wear, for example when cutting hard materials. Carbide improves the quality of tools and parts, extends their service life and ensures safe and reliable processes. The downside: carbide is difficult to machine.
Why is it so difficult to machine carbide?
Carbide is extremely wear-resistant and therefore so difficult to machine. Precise adherence to quality characteristics in the individual machining phases can significantly influence the tool's service life. Conventional processes are grinding and die-sinking EDM. EDM is also very costly, as moulds have to be made first. Another disadvantage is tool wear. Punching technology, however, demands maximum precision in tool components - the ten-thousandth part should be exactly the same as the first. This is where our laser system with the TRUMPF Femto laser source scores points, as significantly longer tool service lives can be achieved through laser processing. Here we work closely with the Ceratizit company, which is the market leader in supplying the carbide for the punching technology industry.
Member of networks and associations
HAILTEC - Your certified partner
Benefit from the latest laser technology without having to invest yourself.